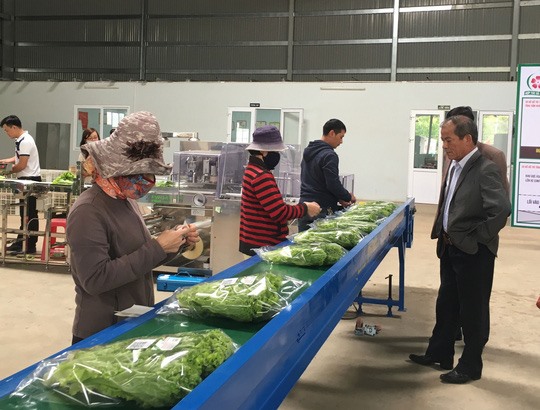 Vegetables are packaged in a processing facility in Lâm Đồng Province. HCM City is pushing for more semi-processing of harvested produce in the province before they are transported to the city's wholesale markets. – Photo nld.com.vn
Viet Nam News
HCM CITY – The HCM City Department of Industry and Trade is pushing for semi-processing agricultural products in Lâm Đồng Province before transferring them to wholesale markets in an aim to reduce vegetable waste and save costs.
Lâm Đồng was chosen as the first province for the project to encourage more washing, filtering and packaging of products.
The three main wholesale markets, Bình Điền, Thủ Đức and Hóc Môn, in HCM City receive about 9,200 tonnes of agricultural goods and discharge around 240 tonnes of waste. Ninety per cent of the waste comes from processing products.
The three markets spend around VNĐ2 billion (US$87,000) per month treating waste.
Bùi Thế, deputy director of the Department of Industry and Commerce in Lâm Đồng, said the province was instructing producers and traders to supply semi-processed products to HCM City as it could help save costs on waste treatment and frequent sterilisation of the wholesale market.
The HCM City Department of Industry and Trade said that semi-processing of harvested goods would preserve them longer, meaning fewer crops would spoil via transport from the provinces to HCM City.
Dr. Võ Mai, deputy chairwoman of the Việt Nam Horticulturists' Association, said waste from agro-products and food after semi-processing could be used to produce organic fertilisers.
Lâm Đồng Province and HCM City are working together on standardising semi-processing procedures that every farming household must follow.
Bùi Thế said that many businesses lacked the resources to process and package a large amount of harvested goods quickly.
Currently, radishes and white radishes in Lâm Đồng are semi-processed before being transported to HCM City. More types of vegetables will go through a similar process in the future.
Nguyễn Huỳnh Trang, deputy director of HCM City Department of Industry and Trade, said that harvested vegetables should be processed and packaged to the same standards as vegetables sold in supermarkets.
"Farmers and co-operatives need to be educated on this so that in the future, all agricultural produce is properly processed and packaged, with clear labels. HCM City wholesale markets should also only buy semi-processed goods," she said.
This policy is part of the city's plan to develop agricultural brands, provide more high quality products with clear origins, and promote trade between HCM City and other provinces. – VNS
Nguồn: vietnamnews.vn