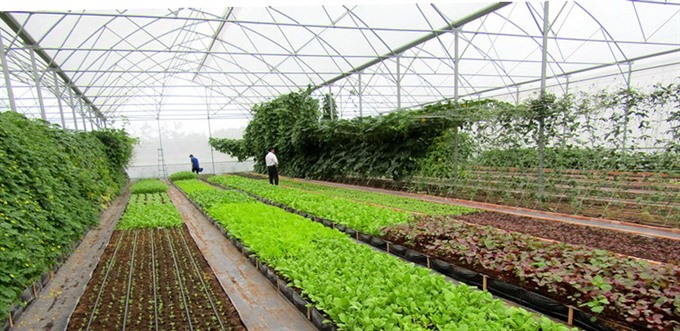 Vegetables grown in a greenhouse in the southern province of Tây Ninh.—Photo baotayninh.vn
Viet Nam News
TÂY NINH — Links between farmers and enterprises are weak in the southern province of Tây Ninh, making it difficult to add value to local farm produce, according to its Department of Agriculture and Rural Development.
The department organised a workshop on Tuesday to discuss ways to bring farmers and businesses together to create value chains for vegetables and fruits.
It said farmers are often forced to harvest their vegetables early and sell to buyers at the farm because they are in need of cash for the new crop season.
These vegetables are then consumed at local markets or sold to HCM City and nearby provinces, with only a small quantity exported.
The processing and preservation of vegetables and fruits are mostly done manually using outdated methods. The province does not have a wholesale market for agricultural produce where classification and distribution can be done.
Links between farmers and enterprises are loose since much of the farming is small and scattered.
Võ Thành Nhơn, chairman of the Green Vina Tây Ninh co-operative, said since its establishment last year the co-operative has been functioning efficiently and has attracted 20 members.
But funds remain a problem since banks do not lend large sums for agricultural projects, he said.
He said the province should explore ways to strengthen farmers' links with food companies and sellers of fertilisers and seedlings so that they could buy high-quality seeds and fertilisers and sell their produce to the companies, avoiding dependence on traders, who usually pay low prices to farmers.
Đinh Hùng Dũng, deputy general director of Lavifood, a fruit processor and exporter, said his company would buy from local farmers when once its plant in the province begins operation in September. It can process up to 500 tonnes of fruits a day.
He said small holders can grow pineapple and red-flesh dragon fruit since the new plant would need supply from 600ha and 500ha respectively of the fruits.
He said his company could offer farmers a guarantee of buying 100 per cent of their fruit output at reasonable prices.
Farmers with larger land holdings and co-operatives could grow mango, green-skinned pomelo and soursop to ensure steady incomes for a long term.
He said the company would collaborate with fertiliser and seedlings companies to help farmers buy them at reasonable prices and with banks to help farmers borrow.
Nguyễn Duy Ân, deputy director of the department, said the province aims to have 50 per cent of its farm produce bought under contracts and 60 per cent of the produce grown to Vietnamese and global good agriculture practice standards by 2020.
It also plans to create by 2020 a 20,000ha clean vegetable zone and a 15,000ha specialised fruit zone, and double the latter's size by 2030.—VNS
Nguồn: vietnamnews.vn