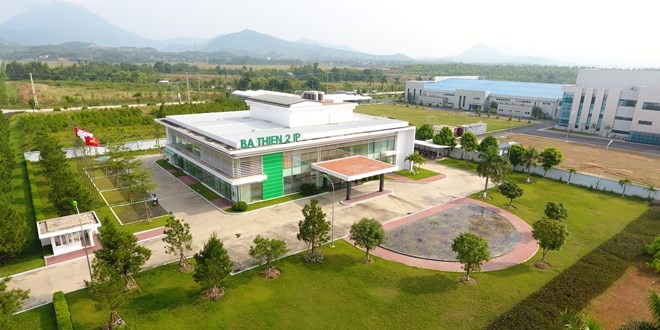 A corner of Bá Thiện II Industrial Zone in Bình Xuyên District of the northern province of Vĩnh Phúc. — Photo bathien2ip.vn
Viet Nam News
HÀ NỘI — Construction of a factory manufacturing metal components recently kicked off at the Bá Thiện II Industrial Zone in Bình Xuyên District of the northern province of Vĩnh Phúc.
Covering an area of 40,000sq.m, the TKR Việt Nam is being built with investment worth US$8.8 million, funded by the TKR Corporation from Japan.
It is set to be open in the second quarter of 2019. Once operational, it is expected to turn out six million products per year and generate jobs for about 2,000 labourers.
Several Japanese firms have poured investment into Vĩnh Phúc Province, creating more career opportunities for young local workers.
As of February 2018, Vĩnh Phúc was home to 278 projects worth over $4 billion invested in by 16 countries and territories. Of these projects, 31 were funded by Japan at a combined value of $816 million.
Statistics from the provincial management board for industrial zones show that in the first quarter of the year, licences were granted to nine new foreign direct investment (FDI) projects with a total registered capital of $45.11 million, meeting 17 per cent of the target for the whole year.
The province also granted licences to two domestic direct investment (DDI) projects with a total registered capital of VNĐ85.9 billion, an increase of 4.3 times over the same period last year.
Of the new projects, 10 were for electronic spare parts production and the other for mechanics manufacturing.
So far, the province has had 46 DDI and 200 FDI projects in its industrial zones. — VNS
Nguồn: vietnamnews.vn